Gaudi's Barcelona | Explore the City of Barcelona Through Gaudi's Best Works
Contents
Antoni Gaudi, whose name is synonymous with Catalan modernism introduced Barcelona to the intricate, decorated, and distinctive pieces of architecture that dot the city today. Although his works did not catch much attention during his time, today 7 of his wonders are recognized as World Heritage sites by UNESCO. Learn more about Gaudi's life, his architectural style, his creations, and the symbolism in his works as you read through this page.
Who was Antoni Gaudi? Born in 1852, Antoni Gaudi was a Spanish architect, best known as the greatest exponent of Catalan Modernism. Gaudi's architectural work was highly unique and featured one-of-a-kind designs. Most of Gaudi's work is located in Barcelona, including his most famous work, the Sagrada Familia. Across most of Gaudi's work, three themes became apparent: nature, religion, and architecture.
A meticulous planner, Gaudi worked tirelessly on the plans for buildings he was designing but his plans were rarely hand drawn. Instead, he would create 3D scale models and mold the details on the models as he conceived them. Gaudi also tried to integrate crafts including carpentry, stained glass, wrought iron forging, and ceramics organically into his creations. In the late 19th and early 20th centuries, Gaudi became a part of the Modernista movement, partly after being influenced by neo-Gothic and Oriental techniques. To date, Gaudi's architectural prowess is lauded by modern architects and the Sagrada Familia is the most visited monument in Spain. By 2005, seven of his works were inducted into the prestigious World Heritage Sites by UNESCO.
Antoni Gaudi's Architectural Style
Gaudi's style does not fit into any of the mainstream styles. Throughout his life, he took inspiration from nature and created unique designs. From Baroque to Victorian, Muslim to Christian, Gaudi's architectural style has it all.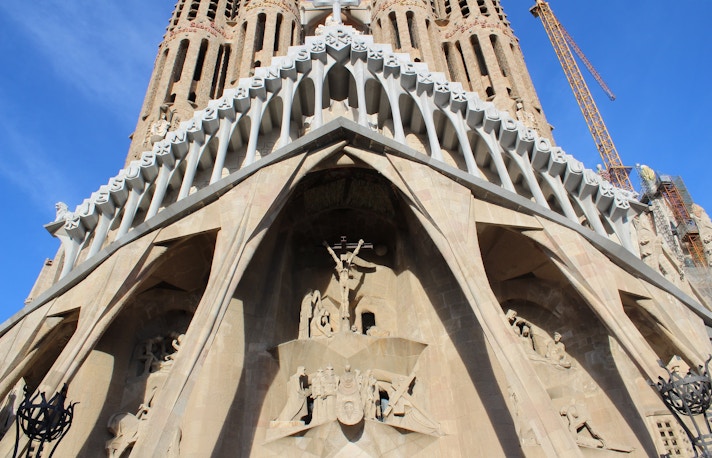 Modernisme
Modernisme or Art Nouveau, a reaction to Spanish conservative architecture, grew to become the Catalan architectural identity. With an emphasis on industrialization, technology, and scientific investigation, the industrial and cultural projects of Barcelona were exhibited at the Barcelona universal exposition in 1888. 
As a well-known supporter of Modernisme, Antoni Gaudi combined Asian and Islamic forms with Art Nouveau to create his own eclectic mix. Gaudi's fascination for nature inspired him to incorporate elements of nature in his works. Casa Vicens inspired by Marigold flowers, and Casa Batllo from marine life are a few examples. The spirit of Modernisme is alive even today with numerous architects working on the Sagrada Familia to this date. 
Geometrical Shapes
The use of geometric shapes in Gaudi's works combined the rich Islamic architecture with its Christian counterpart. Taking inspiration from nature, Gaudi used helicoids to represent tree trunks and conoids for leaves. Apart from two-dimensional motifs, Gaudi included three-dimensional shapes by taking inspiration from tree trunks for columns in Sagrada Familia, human bones in Batllo house columns, and rib cages in inverted canary arches of Casa Mila. 
In the ceilings and floors of many buildings, Gaudi used mosaics. This is sometimes referred to as trencadis. Gaudi also made an extensive use of parabolic arches in Palau Guell and Casa Batllo. He also used hyperbolic curves to create the vaults of Sagrada Familia and tree trunks in the main church.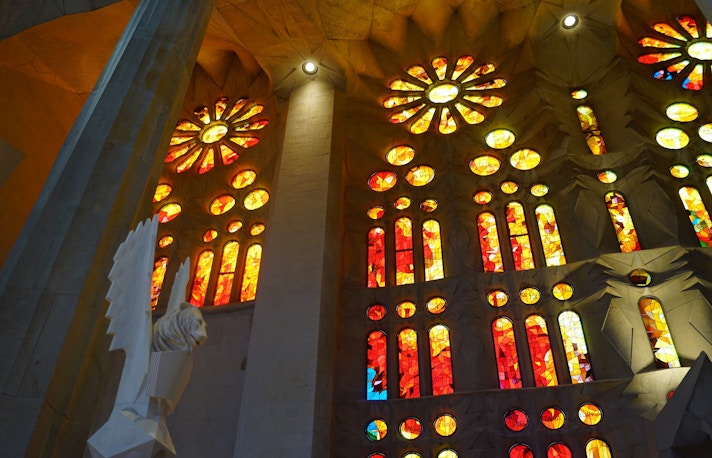 Catalan Identity
From his youth, Antoni Gaudi was proud of his Catalan heritage. He was a devout Roman Catholic and used his architectural styles to pay tribute to his faith and regional identity. Gaudi's architecture opened a new chapter in Catalan history by breaking away from conventional techniques. 
It is said that Gaudi's trip to the Cisterian monastery of Poblet when he was 16, led him to embrace his Catalan identity and write a manifesto to restore the building and revive part of Catalonia's glorious past. Later on in life, he used Catalan modernist architecture to give life to poetry and national myths. Sagrada Familia, among others, became an iconic monument synonymous with Catalan identity.
Gothic Style
Gaudi experimented with Gothic styles in the Episcopal Palace, Astorga, and the Casa de los Botines. While designing the Sagrada Familia, Gaudi mixed erstwhile Gothic traditions with curvilinear Art Nouveau. The Sagrada Familia is unique because, from afar, the structure looks very Gothic. But as you go close, the organic motifs and forest-inspired pillars give it a modernist tinge. 
The influence of the Gothic style in Gaudi's architecture showed his appreciation of the past. By entwining the old with the new, Gaudi gave a seamless transition between the different schools of architecture. Through Gaudi's works you'd notice history moving through the past, present and future in a non-linear fashion.
Symbolisms in Gaudi's Work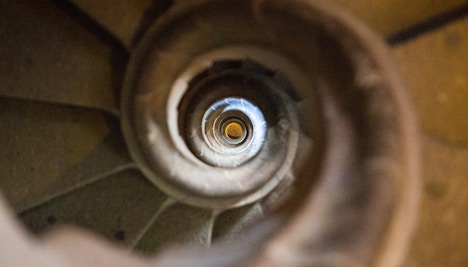 Nature
Gaudi's biomimicking architecture had taken inspiration from trees, snails, leaves, and even the human rib cage.  
The Catenary arches at Casa Mila are said to have been inspired by human rib cages, columns at Sagrada Familia from trees, the Batllo house columns inspired from human tibia, the spiral staircases in the tower of Sagrada Familia from Perisphinctes spiral shell and the Parc Guell columns from sweet chestnut tree.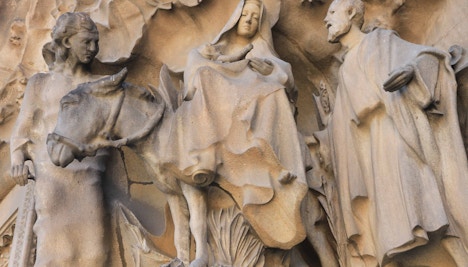 Religion
Gaudi was a devout man. His masterpiece- the Sagrada Familia was meant to be his tribute to God and Roman Catholicism. The Nativity facade of the church that was built during his time had numerous biblical stories. He had intended to write the history of the entire Catholic faith in one building. Gaudi firmly believed that nature is where man is closest to God. And so, he included symbols of nature in most of his works.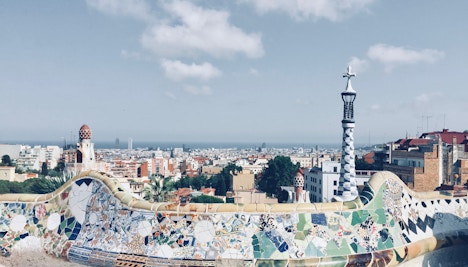 Catalan Identity
Gaudi's rise as an architect coincided with the Catalan Modernisme movement. He took this reactionary movement ahead and gave his own touch. He combined the old Gothic styles with the modernist styles and created a unique style of architecture, today synonymous with Gaudi's works. The political symbolism of a unique Catalan identity, separated from the central Spanish architecture was evident. 
Book Tickets to Sagrada Familia
Gaudi's Barcelona | Prominent Creations by Antoni Gaudi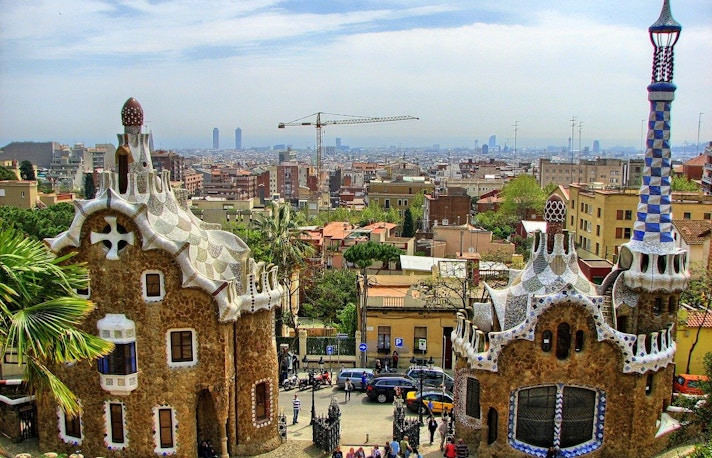 Park Güell
A public park featuring gardens and architectural elements, Park Guell is located on Carmel Hill in Barcelona. Work on the park began in 1900 and it was officially opened to the public in 1926. Park Guell was designed by Gaudi during his naturalist phase and showcased his personal style through inspiration from organic shapes. In fact, this strangely enchanting place is one of the few places in the world where the artificial seems more natural than the natural.
Inside the main entrance on Carrer d'Olot is the park's Centre d'Interpretation, a curvaceous former porter's house which houses a display of Gaudi's building methods and also the history of the park. The steps from the entrance are guided by a mosaic dragon and lead to the Doric Temple. This is a forest featuring 86 stone columns.
Park Guell Tickets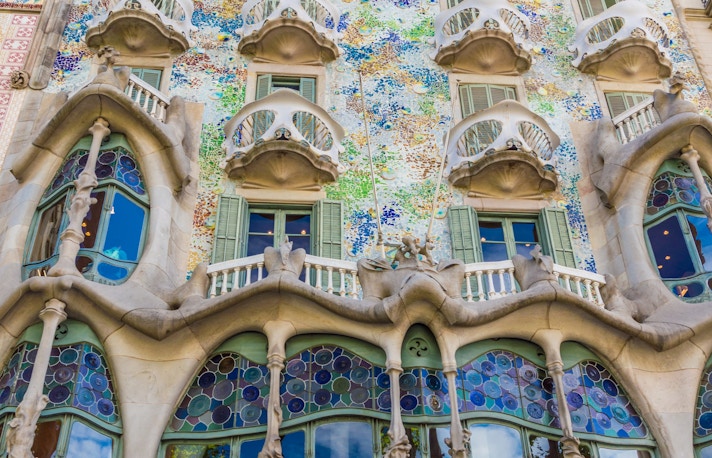 Casa Batlló
Located on Passeig de Gracia, Casa Batlló, along with La Pedrera, is one of the two iconic buildings designed by Antoni Gaudi. The exterior facade of Casa Batlló resembles skulls and bones, giving the building a strikingly unique look. The skull portion of Casa Batllo is the balconies while the bones make up the supporting pillars underneath. For Casa Batllo, Gaudi drew inspiration from the colors and shapes of marine life. For instance, the colors used in the facade resemble those found in natural corals.
Casa Batllo is another beautiful showcase of the unique artistic sensibilities and attention to detail Gaudi lent to each of his creations. Visit Casa Batllo to admire this stunningly original, one-of-a-kind building where the size of the windows varies depending on how high the window is from the top of the building.
Tickets to Casa Batlló
Casa Mila
Constructed between 1906 and 1912, Casa Mila is another gem of a building designed by Antoni Gaudi. Casa Mila was commissioned by Pere Milà and Roser Segimon and derived its name from the fact that the building was supposed to be the new home of the Mila family. Post completion of construction, the Mila family occupied the first floor of the building and put the other apartments on rent. Considered by many modern architects as one of Antoni Gaudi's most iconic works of civil architecture, Casa Mila is a must visit for anyone who wants to admire the creative genius of an artist at the height of his power.
The building not only features functional and constructional innovations which were unheard of at the time but also its decorative and ornamental prowess. Casa Mila is also known as La Pedrera due to its resemblance with an open quarry, the fact that the building features forms drawn from nature. Officially, Gaudi's last work of civil architecture, Casa Mila is even more special for it represents a break from the more complex creations that he was otherwise known for.
Casa Mila Tickets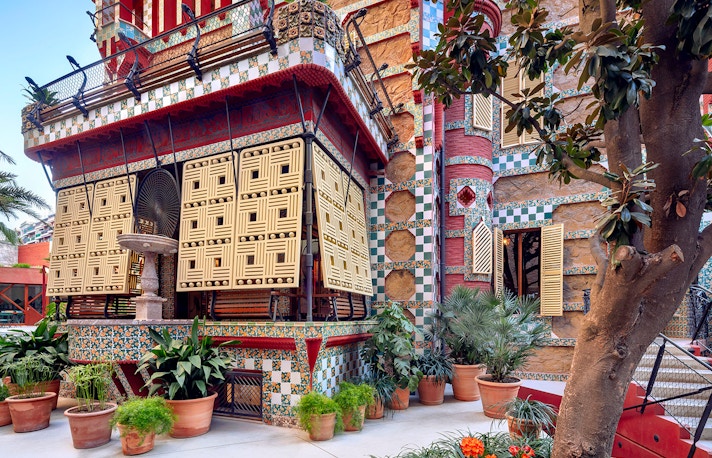 Casa Vicens
Opened to the public only in 2017, Casa Vicens Gaudi is a UNESCO-listed masterpiece created by Antoni Gaudi. Completed in 1885, this angular, turreted private home was built for Manuel Vicens i Montaner, a prolific stock and currency broker. Casa Vicens was Gaudí's first commission when the architect was aged just 30 and was one of the reasons he was noticed. The residential quarter features an opulently detailed facade with ceramic colors and shapes and is located away from Garcia's main drag.
For Casa Vicens, Gaudi drew inspiration from the rich heritage of building in the Mudejar-style brick, which was quite common in parts of Spain reconquered from the Moors. The Mudejar style of architecture was credited to Arabs and Berbers who were allowed to remain in Spain following the Christian reconquests. There are 30 minutes guided tours available to enlighten you about Casa Vicens or you can explore the beautiful masterpiece at your own pace.
Tickets to Casa Vicens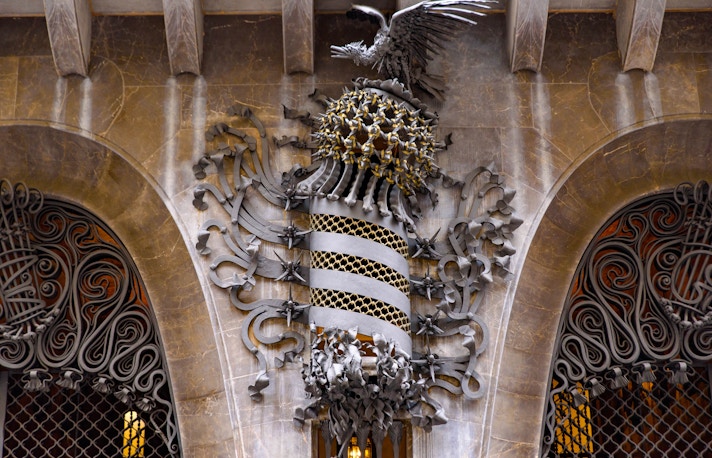 Palau Guell
The Palau Guell was designed by Gaudi for Eusebi Guell and his family. Located in the Gothic quarter of the city, Palau Guell has a parabolic arch facade and mosaic figures on the roof. The interior has a parabolic dome in the central hall and a lounge ceiling perforated by circles to let light in. At night, lanterns were hung from the ceiling to give the appearance of a night sky. On top, there are colorful tree-like chimneys.
The residence which once entertained the crème de la crème of Barcelona society, is today a UNESCO world heritage site.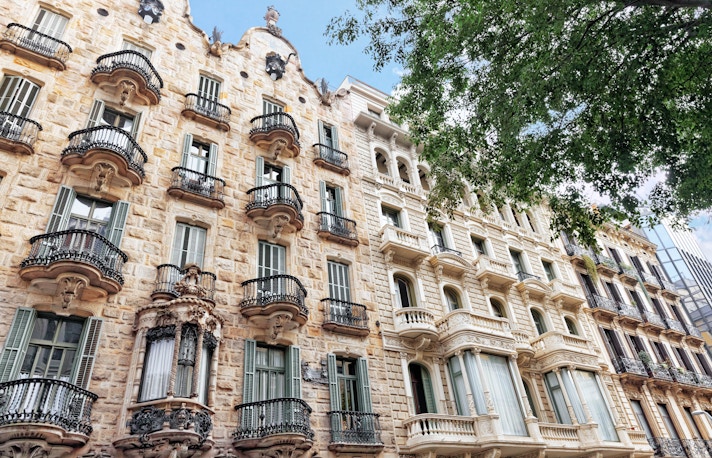 Casa Calvet
The Casa Calvet was designed by Gaudi for Martir Calvet- a well-known textile manufacturer. Out of his other works, Casa Calvet was one of Gaudi's most conservative projects. Having won the award for the best building of the year in 1900, the building sports a baroque facade, overall symmetry, and balance. Although conventional on the surface, the details possess Gaudi's unique style. 
Gaudi extended his decorative sense and subtlety to the interiors, the furniture, the famous office chairs, desks and even the coat racks, umbrella stands and handles.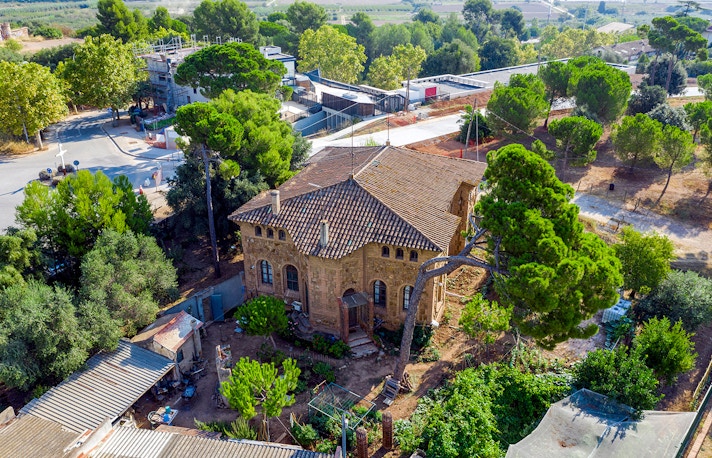 Colonia Guell
The Colonia Guell is an unfinished building by Antoni Gaudi, commissioned by the Guell family. The building was intended to be a place of worship in suburban Barcelona, made of basaltic stone bricks and mosaic. While the building began construction in 1898, it had to halt all works in 1914 when the Guell family went bankrupt. 
The unique geometric columns often used by Gaudi are found on both the interior and the exterior. The church appears to be a rough precursor to the Sagrada Familia with rich interiors and geometric columns.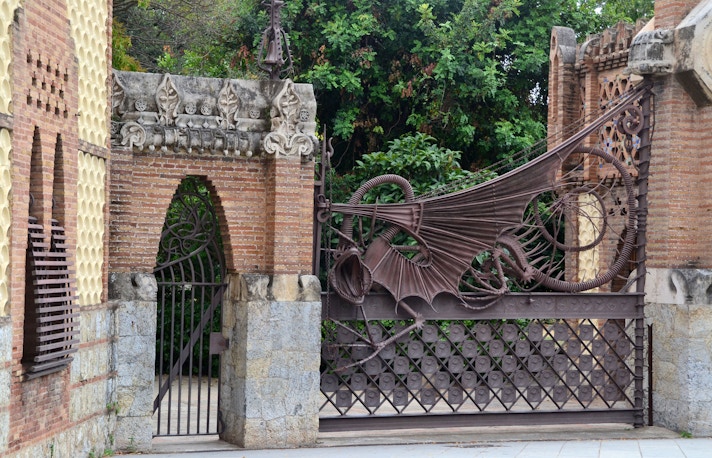 Finca Guell
Eusebi Guell had become a long-term patron and friend towards the end of Gaudi's life. The Finca Guell was one of his first projects that set the road for a productive professional relationship. The wall with its Mudejar-style Gates is the main attraction here. The gates are in the shape of a dragon, representing the mythical dragon from the garden of Hesperides, commemorating Hercules' daring feat. 
The interior of the estate, although built by other architects, was remodeled by Gaudi.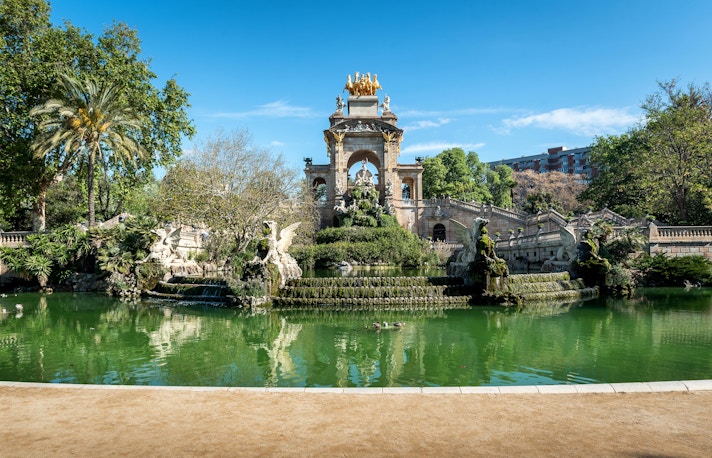 Cascada fountain at Parc de la Ciutadella
This Baroque-style fountain was designed when Gaudi was still a student. Gaudi assisted the principal architect Josep Fontsere in 1881, for an exhibition in 1888. The fountain is said to be loosely inspired by the Trevi fountain in Italy. The four riding horses, stone-carved clams, and dragons make the fountain similar to Gaudi's work.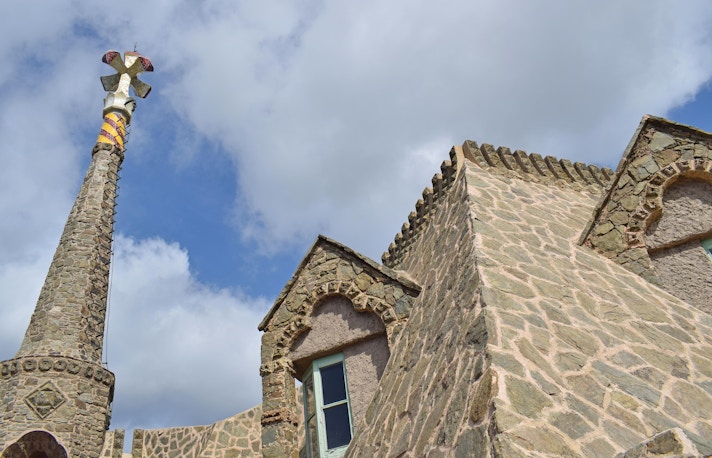 Torre Bellesguard
The Torre Bellesguard is a mix of the old Gothic styles and the Art Nouveau forms. The history of the site of Bellesguard house stretches to the 15th century, long before Gaudi. It served as the home to King Martin I, the last monarch of the house of Barcelona.
Inspired by the rich history of the site, Gaudi constructed a semi- Gothic, modernist masterpiece. The building's symbolism is a reminder of the past.
Frequently Asked Questions About Gaudi's Barcelona
A. Antoni Gaudi was a Modernist Catalan architect whose works dot the Barcelona cityscape today. He has 7 UNESCO world heritage sites under his name.
Q. What are some of Gaudi's most prominent works in Barcelona?
A. The Sagrada Família, Palau Guell, Casa Calvet, Colonia Guell, Finca Guell and so on are Gaudi's most prominent works.
Q. What is the most famous work of Antoni Gaudi?
A. Sagrada Familia is Gaudi's most famous work. It remains unfinished to this day. 
Q. What are the works of Gaudi that I should visit while in Barcelona?
A. The Sagrada Familia is a must visit. The Casa Vicens, Casa Calvet, Casa Batllo and others will be worth your time.
Q. What was Antoni Gaudi's architectural style?
A. Gaudi did not have one particular style. He however experimented with Art Nouveau, Gothic revival, organic and modernisme. 
Q. What was Antoni Gaudi's first commissioned work?
A. Casa Vicens was Gaudi's first major work, designed in 1878.
Q. What was the last project that Gaudi worked on?
A. Sagrada Familia was Gaudi's last work. Unfortunately he never lived to see it finish. He died in 1926 after being struck by a tram. The Sagrada Familia however remains unfinished to this day, becoming the longest running construction project.