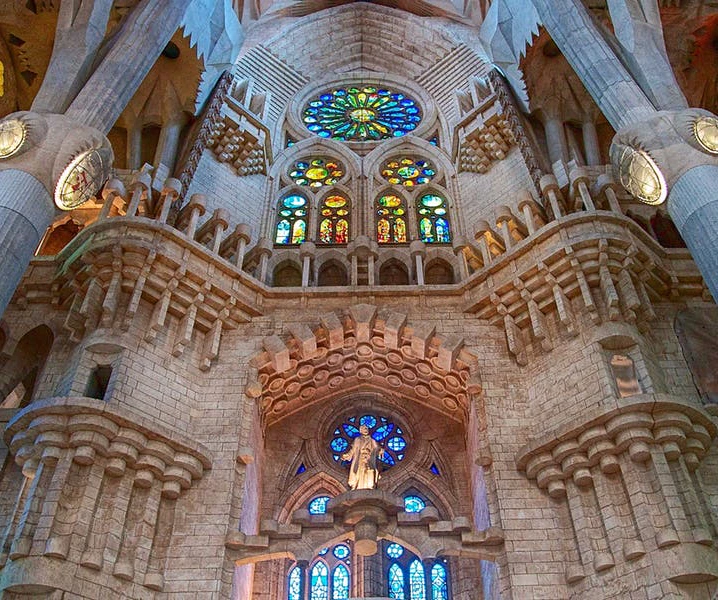 Sagrada Familia Guided Tours
The foundation stone for Sagrada Familia was laid over a century ago in 1882, and 138 years later, this iconic monument is still years away from completion. Full of Catalan history, beautiful stained-glass windows and extraordinary architectural detailing and craftsmanship, there is plenty to learn and discover within this magnificent church. With so much to explore, a guided tour is the best way to fully appreciate the Sagrada Familia. You could choose to go for an audio-guided tour, or tour the Basilica with an expert local guide by your side, ensuring you make the most of your visit. If you're looking to buy Sagrada familia tickets, here's why you should opt for the guided tour option. 
Why Choose a Guided Tour of Sagrada Familia?
1. Skip the Line
With notoriously long lines and wait times to get into the basilica, many visitors spend up to 2 hours standing in queues. Booking a guided tour helps you skip past the crowds and save plenty of time! Meet your tour guide at the entrance and head straight into the basilica and begin exploring everything the Sagrada Familia has to offer.  
2. Insider knowledge
The expert local guides have in-depth knowledge of the Basilica.  Learn about the history and construction of La Sagrada Familia, see the first sketches and plaster models of the basilica and learn about the life and career of Antoni Gaudi and the most famous of all his works. 
3. Don't miss anything
With so much to see, it is easy to miss out on several of the Sagrada Familia elements on your own. Having an expert guide by your side will help you easily navigate through the crowds and ensure you don't miss any of the main highlights.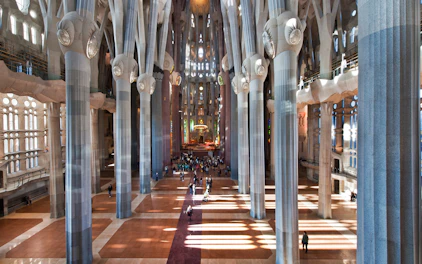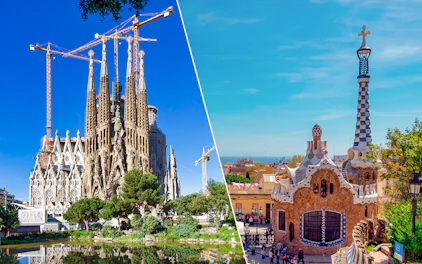 Fast Track Guided Tour to Sagrada Familia with Tower Access
Sagrada Familia and Park Güell Combo Tickets
Areas of Access
- Sagrada Familia Basilica
- Sagrada Familia Museum
- The Passion tower

Areas of Access
Sagrada Familia and Park Güell
Cancellation Policy
Up to 48 hours in advance
Cancellation Policy
Get a full refund on canceling this ticket up to 24 hours before the schedule.
Frequently Asked Questions

What types of tickets are available?
You can purchase both standard admission tickets as well as guided tours to the Sagrada Familia. Entry tickets can be paired with audioguides while guided tours are also available in multiple languages.
Will I have to queue before entering?
If you purchase your tickets online, you can enjoy your visit to the Sagrada Familia without waiting. You are still required to queue at the security since it is mandatory.
How long are my tickets valid for?
Sagrada Familia tickets are valid only for the date and time of entry you select while purchasing the tickets.
How long in advance can I purchase my tickets?
Sagrada Familia tickets can be bought roughly two months before the visit.
Will I get access to the Sagrada Familia Towers?
Access to the Sagrada Familia Towers are not included with the standard admission ticket and you will have to buy a separate ticket to access the tower. These tickets allow you to enter the church as well as climb one of the two open towers.
Which tower will I be able to climb?
Only the towers on the Nativity and Passion Facade are open to the public. If you have purchased tickets with access to the towers, you can climb any one of the two towers.
What languages are audio-guides available in?
Audioguides are available in 16 languages: Catalan (CA), Spanish (ES), English (EN), French (FR), German (DE), Italian (IT), Chinese (ZH), Japanese (JA), Portuguese (PT), Russian (RU), Hungarian (HU), Korean (KO), Swedish (SV), Finnish (FI), Dutch (NL) and Polish (PL).
What languages are the guided tours available in?
Guided tours are available in English (EN), Spanish (ES), French (FR) and German (DE).
What are the opening hours of the Sagrada Familia?
Opening hours vary through the year depending on the season.
Nov-Feb: 9:00 AM to 6:00 PM
Mar: 9:00 AM - 7:00 PM
Apr-Sep: 9:00 AM - 8:00 PM
Oct: 9:00 AM - 7:00 PM
Dec 25, 26 & Jan 1, 6: 9:00 AM - 2:00 PM
Are there limitations to what I can wear while visiting the church?
Since the Sagrada Familia is a Catholic church, visitors must dress appropriately.
• No see-through clothing
• Shoulders must be covered
• Trousers and skirts should come down to at least mid-thigh
• Visitors should not wear any clothing that celebrates any sort of festivities, or has decorations with religious or promotional themes.
Are there lockers for bag and luggages?
Only small bags and rucksacks can be temporarily stored while visitors go up in the towers. For safety reasons no suitcases can be stored at the venue.
Are wheelchairs available?
The Basilica provides wheelchairs for disabled users.