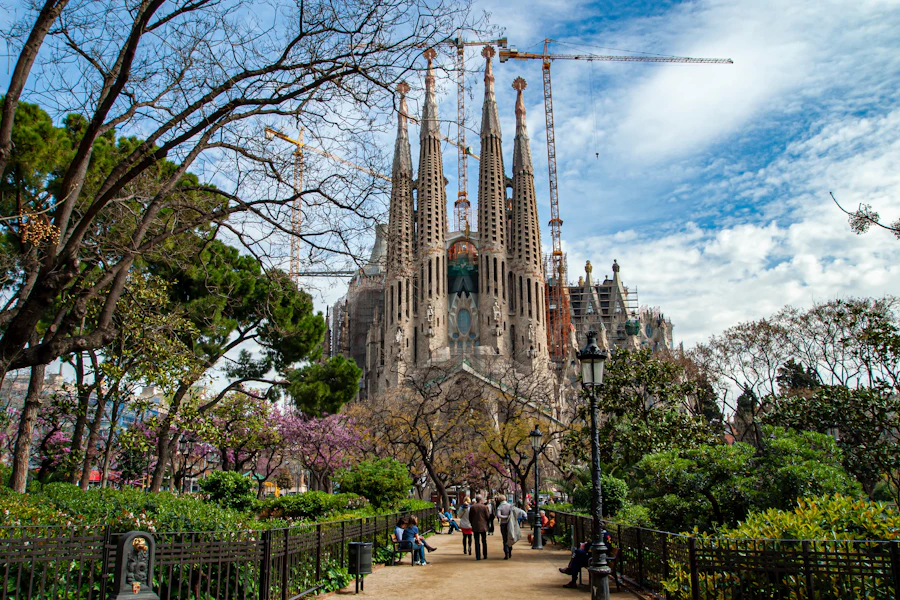 Everything You Need to Know About Barcelona's Architectural Masterpiece | Sagrada Familia
One of Barcelona's most iconic symbols, the Sagrada Familia is the most visited landmark in the whole of Spain. Considered to be a great example of modernist architecture designed by architect Antoni Gaudi, many tourists from across the globe come to visit this unfinished church. If you are visiting Sagrada Familia on your Barcelona vacation, here is all you need to know!
What is Sagrada Familia?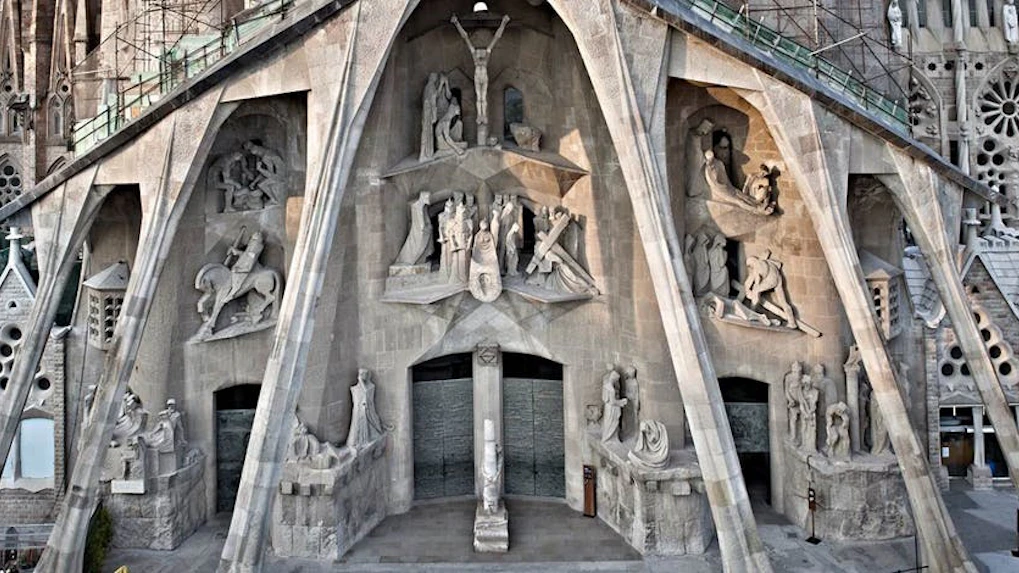 The Sagrada Familia is a unique piece of architecture that cannot be found anywhere else in the world but in Barcelona. Built by the world-renowned architect - Antoni Gaudi, the structure has complex designs, with intricate ornate walls on the exterior, and implemented the Art Nouveau style as a surface decoration.
This Roman-Catholic church in Barcelona is breathtakingly beautiful and what makes it historically significant is that the church has been under construction for over a century, ever since 1882. Even though the work is still in progress, it is undoubtedly the most visited attraction in Barcelona.
Knowledge Graph
Official name: Basilica I Temple Expiatori de la Sagrada Familia
Location: C/ de Mallorca, 401, 08013 Barcelona, Spain
Date of opening: 7 November, 2010
Timings: Daily from 9 AM to 6 PM
Architect: Antoni Gaudi (1852-1926)
Architectural Style: Modernist, Art Nouveau Architecture, Noucentisme, Gothic Revival architecture, Spanish Gothic architecture
UNESCO World Heritage Site: 1984
Number of Visitors Per Year: 3,000,000 visitors every year
Where is Sagrada Familia?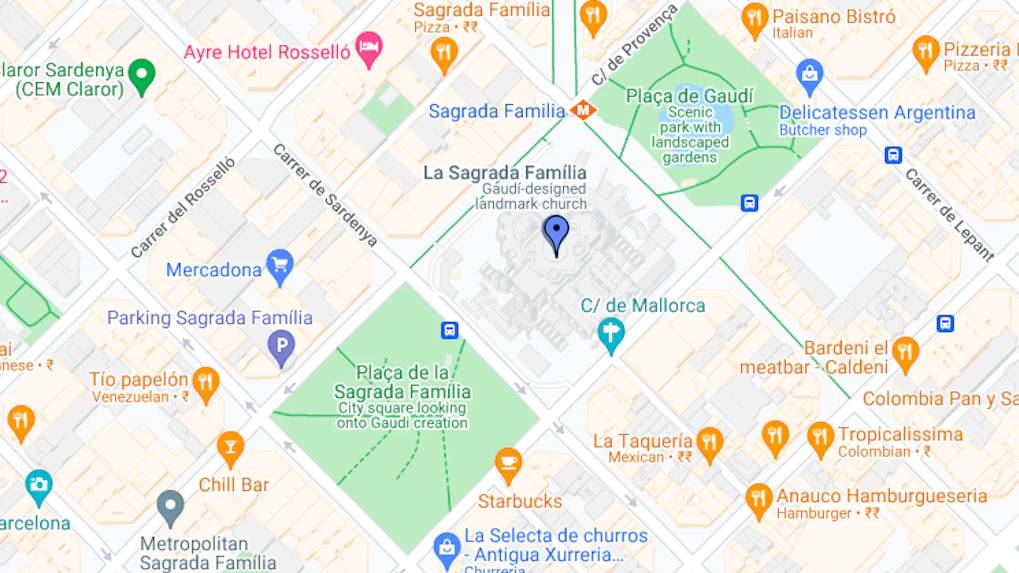 Address: C/ de Mallorca, 401, 08013 Barcelona, Spain
Sagrada Familia, a large Roman Catholic Church, is situated in the Eixample Right district of Barcelona, Catalonia, Spain.
Once you have reached the end of Gaudi's Avenue, you can visit the modernist Sant Pau Art Nouveau Site. With over 5 years of restoration work, the place is a beautiful cultural attraction.
Sagrada Familia Opening Hours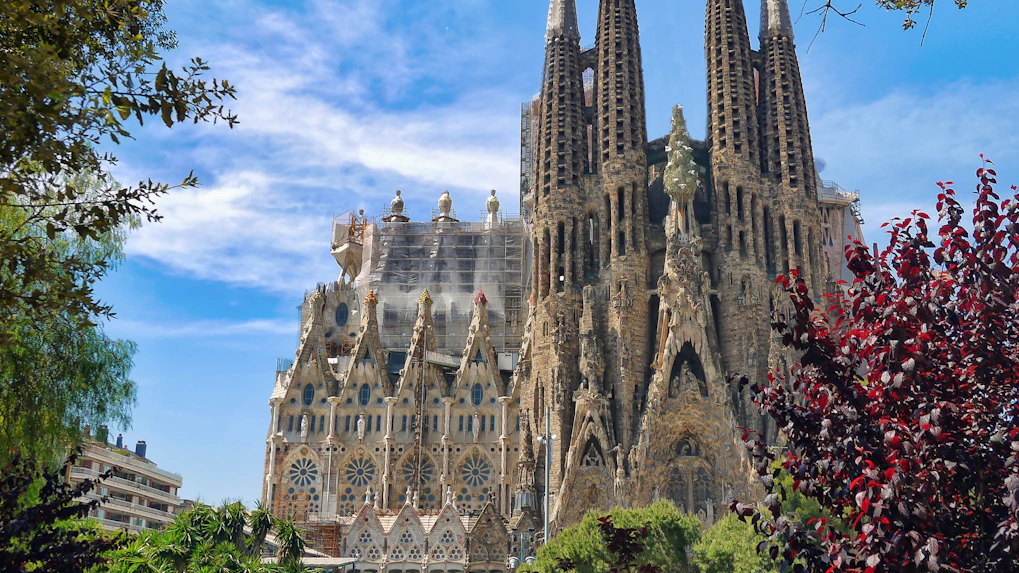 Depending on the time of the year you intend to visit Sagrada Familia, the opening hours may vary accordingly:
April - September: 9 AM to 8 PM
March - October: 9 AM to 7 PM
November - February: 9 AM to 6 PM
1 and 6 January | 25 and 26 December: 9 AM to 2 PM
Mass Timings:
The international mass takes place every Sunday at 9 AM.
Know More
Why You Should Visit Sagrada Familia?
Witness great architecture and different facades of the attraction and your experience will be taken to a whole new level.
Explore the historical drawings, pictures, and figures of the Sagrada Familia's evolution, all the way from the beginning in 1882.
Discover the life and works of Antoni Gaudi, Barcelona's most famous architect.
Stroll through a journey up the Sagrada Familia famous towers to witness a breathtaking panoramic view of the city of Barcelona.
Sagrada Familia is a UNESCO World Heritage Site and is known for its unique architecture style, and is one of the seven buildings by Gaudi that fall under this category.
Visit the basilica's columns towering 70 meters to the ceiling and the huge stained-glass windows where sunlight falls through to the interiors, to produce a dreamlike experience.
Why is Sagrada Familia So Famous?
Sagrada Familia is an iconic example of Antoni Gaudi's exemplary style, with elements of Art Nouveau, Catalan Modernism, and Spanish Late Gothic design. 
The work revolved around the theme of nature figures, in terms of both, symbolism and the usage of organic shapes and forms.
It is a popular attraction that was under construction for over a century.
Sagrada Familia became very important for its expansive dimension and lush design and came to be popularly known as 'the cathedral'.
Inspired by nature, this man-made masterpiece is the tallest building in Europe to explore.
The architect of the famous attraction, Antoni Gaudi is buried at Sagrada Familia.
History of Sagrada Familia
The Basilica de la Sagrada Familia, also popularly known as the Sagrada Familia, is a Roman Catholic church situated in Barcelona. The work on the masterpiece began in 1874 when talks began to emerge in order to construct a church honoring the Holy family.
 Under the guidance of the original architect Francisco de Paula del Villar y Lozano, the construction work began but was soon replaced by Antoni Gaudi, where his work focussed on a modernist creation. Soon, by 1923, he had a vision of the basilica and the church's first tower, which finished in 1925. Unfortunately, he died on 10 June  1926 and the work was at a standstill. After his passing, for over a century, five generations of architects worked towards bringing Gaudi's vision to reality.
 Although, a large chunk of his ideas was destroyed when a fire broke out in 1936. The architects worked into bringing the attraction to life and in 2010, the church was finally consecrated by Pope Benedict XVI.
Who Built Sagrada Familia?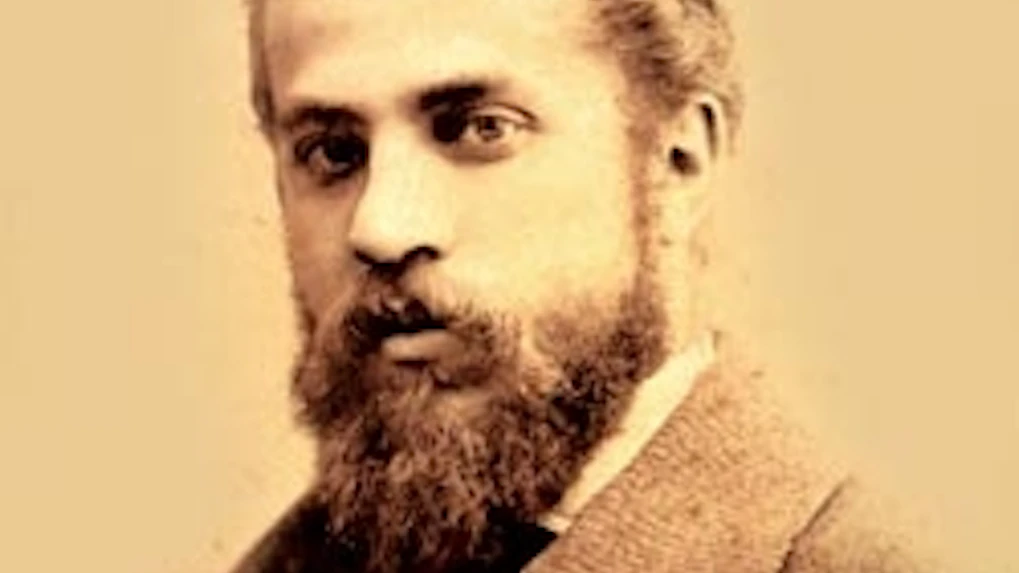 The Sagrada Familia is a whimsical piece of architecture that is a product of Antoni Gaudi's imagination. The initial architect on work was Francisco de Paula del Villar but was eventually taken over by Gaudi who created a stunning display of Art Nouveau and Catalan Noucentisme architecture.
This iconic basilica in Barcelona is a monument that took more than 100 years in the making, ever since 1882 when the first foundation for the structure was laid.
More About Gaudi
Architecture of Sagrada Familia
Sagrada Familia was envisioned by the famous architect Antoni Gaudi who was known for bringing Art Nouveau into the surface decoration of the cathedral. The church was shorter in width than most of the cathedrals in Europe and showcased a mix of Catalan Modernism, Catalan Noucentisme, Art Nouveau, and Spanish Late Gothic.
The structure has numerous steeples, seven apsidal chapels, three portals, double aisles, and towers, and are very distinct. The interiors of the church are quite extraordinary with covered passages forming a rectangle around the church, passing through the three portals. There are no right angles present in the interiors or exteriors of the church and consist of a few straight lines in terms of design.
The areas that are open to the visitors give you a feel of walking through a castle consisting of colorful and magnificent large glass windows and ceilings that are carved intricately.
Highlights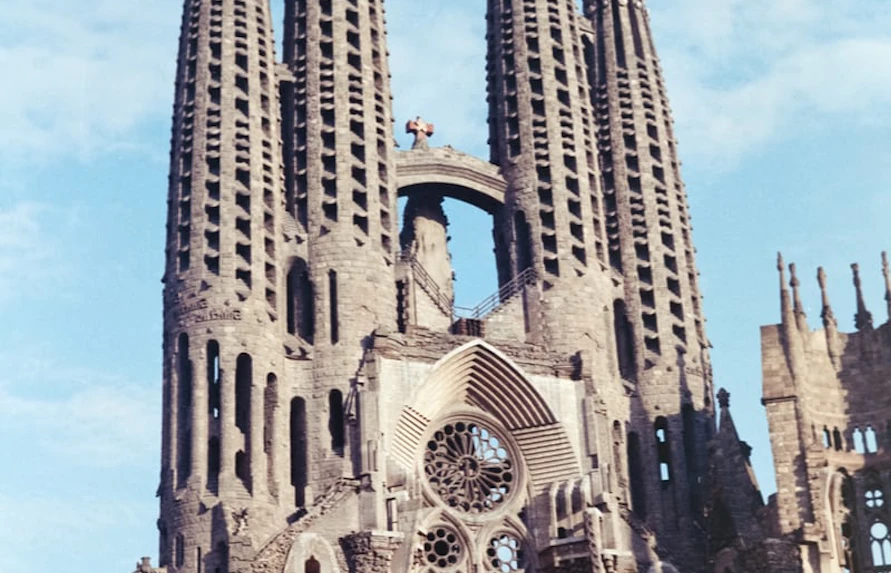 Enjoy great views from the Nativity Tower and the Passion Tower
Having a peep from either of the two towers is going to offer you nothing, but sheer beauty. The Nativity Tower allows you to witness the city as a whole with picturesque mountains whereas the Passion Tower offers views of the Mediterranean Sea. So, you can choose the kind of view that you would wish to have on your visit to La Sagrada Familia in Barcelona.
Know More Take the Sagrada Stairway
On visiting the Sagrada Familia Towers, the coiled stairs spiral in shape are a must-take. With over 500 stairs to climb, it may seem exhausting, but is entirely safe and is in sync with Gaudi's architecture and style. Children below 6 years of age and people with physical disabilities are not recommended to take the stairs and are refrained from accessing the Towers.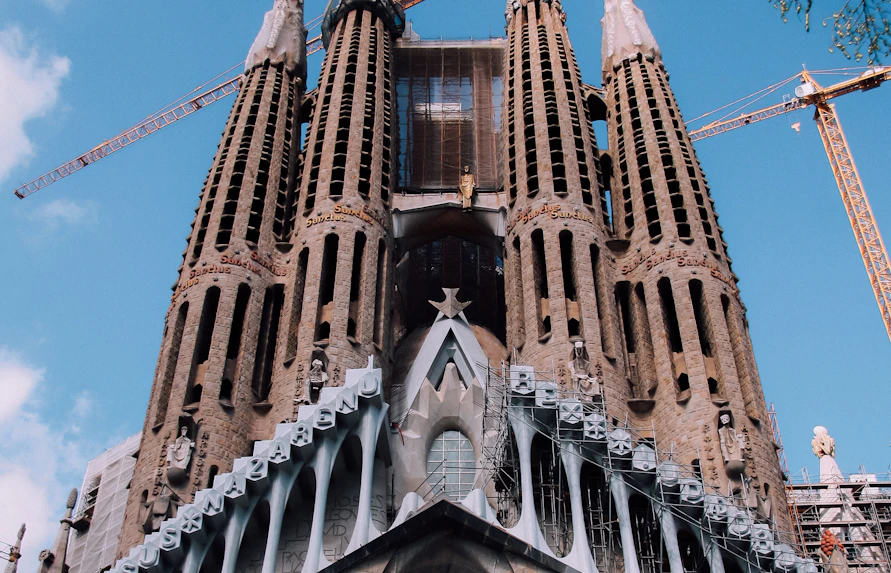 Visit the Sagrada Familia Museum
The Sagrada Familia Museum houses an exquisite collection of Antoni Gaudi's construction models, drawings, furnishings, and much more, in an underground exhibit. You can find the space under the Passion Facade inside the semi-basement. Take a close look at the mind of this renowned architect and how his plans were initiated.
Attend Mass at the Sagrada Familia
Mass is held regularly at the Sagrada Familia and is open to all. Mass is held on Saturdays, Sundays, and on holy days of obligation. On Saturdays and the eve of holy days of obligation, mass takes place at 8 AM and on Sundays and holy days of obligation, it takes place at 9 AM.
Know More
Frequently Asked Questions About Sagrada Familia
Q. What is the Sagrada Familia?
A. Sagrada Familia is one of Barcelona's iconic symbols and is a giant Basilica, constructed by the famous architect Antoni Gaudi. This attraction has been under construction since 1882.
Q. Where is Sagrada Familia?
A. One of Gaudi's most famous works, the Sagrada Familia is a giant Basilica that is situated in the city of Barcelona, Spain.
Q. What is Sagrada Familia famous for?
A. Constructed by Antoni Gaudi, the iconic structure is famous for its unique style that combines elements of Art Nouveau, Spanish Late Gothic design, and Catalan Modernism.
Q. Why should I visit Sagrada Familia?
A. The church is dedicated to the Resurrection of Jesus and portrays the road to God. In terms of its design, the structure encompasses a total of 18 towers that are sure to leave you awestruck.
Q. How do I book tickets to visit La Sagrada Familia?
Q. How much is a ticket to visit La Sagrada Familia?
Q. Who built the Sagrada Familia?
A. The construction of Sagrada Familia began under architect Francisco de Paula del Villar and was eventually taken over by Antoni Gaudi as the chief architect to transform the project.
Q. When did Sagrada Familia open?
A. Sagrada Familia began its construction on 19 March 1882 and continues to be still under construction, with just parts of the Cathedral being open to the public.
Q. What's inside Sagrada Familia?
A. Sagrada Familia has 18 towers, each one carrying an intricate significance of its own. The tower dedicated to Christ is situated at the center, and four towers with the Gospels surround it. The tower starred above represents the Virgin Mary.
Q. What are the Sagrada Familia opening hours?
A. The opening hours of Sagrada Familia vary: April to September - 9 AM to 8 PM, March to October - 9 AM to 7 PM, November to February - 9 AM to 6 PM. On January 1 and 6 and December 25 and 26 it is open from 9 AM to 2 PM.
Q. What are the mass timings at Sagrada Familia?
A. Monday to Saturday: 9 am (Catalan) and 8 pm (Spanish). Sundays: 9 AM, 11:45 AM, 8 PM (Spanish), 10:30 AM, 1 PM, 6:30 PM (Catalan).
Q. Is it worth visiting Sagrada Familia?
A. Famously known for its Art Nouveau and Catalan Noucentisme architecture, the Sagrada has been constructed for a really long time and is worth visiting to get an insight into its design and history that the place beholds.